The marijuana market is represented by a wide selection of public companies, engaged in the cultivation and processing of cannabis for medical and recreational purposes.
Investors also have the option to invest in diversified ETFs and mutual funds to disperse some of the risk.
A vast majority of marijuana stocks are highly volatile and can be solid choices for long-term investors, as well as short-term traders.
SNDL Inc (NASDAQ:SNDL)
SNDL is a Canadian cannabis company listed on the Nasdaq and the Toronto Stock Exchange
The company produces and markets various cannabis products for recreational use, while also possessing alcohol distribution licenses to diversify its revenue sources
SNDL has a market capitalization of $400 million, with growing quarterly revenues and shrinking loss margins
The stock has an average daily trading volume of 3.2 million shares
ETF Managers Group LLC is the largest institutional shareholder of SNDL, with a 2.77% stake
The stock has lost over 26% since the start of the year, amounting to a loss of over 98% of market value since going public in 2019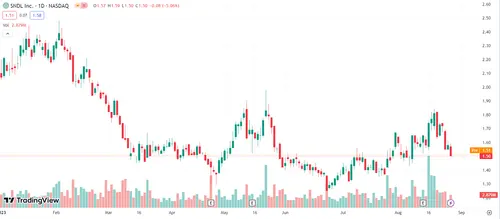 Scotts Miracle-Gro Company (NYSE:SMG)
Scotts Miracle-Gro is a U.S. company that manufactures and sells gardening and hydroponics products for the agricultural industry, including the cannabis industry
The company is listed on the New York Stock Exchange
The stock has gained 5.4% since the start of 2023, gaining 370% since going public in 1992
With a market capitalization of over $2.95 billion, with increasing quarterly earnings
The stock has an average daily trading volume of 767,000 shares
Kayne Anderson Rudnick Investment Management LLC is the largest institutional shareholder of SMG, with an 8.81% stake, with Vanguard coming in at second, with 8.10%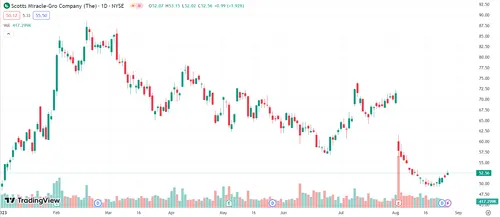 Tilray Brands Inc (NASDAQ:TLRY)
Tilray Brands is an American marijuana company listed on the Nasdaq, with operations in Canada, Australia, New Zealand, and Latin America
The company is listed on the Nasdaq, with a market capitalization of $1.6 billion
The stock has lost 16.7% since the start of 2023, losing roughly 92% since going public in 2018
As of 2023, Tilray Brands has managed to boost quarterly revenues by 20%, while shrinking loss margins by 70%
The stock has an average daily trading volume of 23.9 million shares
The ETF Managers Group LLC is the largest institutional holder of TLRY, with an ownership stake of 1.15%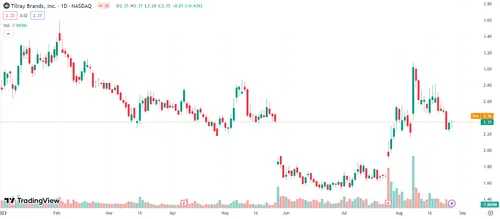 AFC Gamma Inc (FRA:0FG)
AFC Gamma Inc is an institutional lender to marijuana companies that provides a variety of investments and credit solutions to companies in the cannabis industry
AFC Gamma is listed on the Frankfurt Stock Exchange, with a market capitalization of EUR 265 million
The stock has lost roughly 14% of its market value since the start of the year, which amounts to a total loss of over 34% since going public in 2021
The stock has an average daily trading volume of 142,000 shares
BlackRock Fund Advisors is the largest institutional shareholder of AFC Gamma Inc, with an ownership stake of 5.91%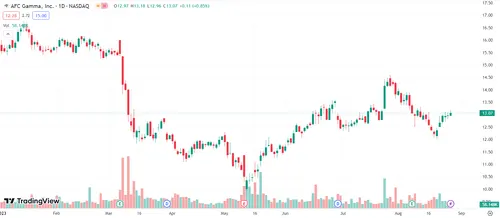 Cronos Group Inc (NASDAQ:CRON)
Cronos Group is a Canadian medical cannabis company that is listed on the Nasdaq
The company has operations in Canada, the U.S., Germany, and Colombia
The stock has a market capitalization of CAD 880 million, with average quarterly revenues of CAD 20 million, having managed to halve its loss margin as of Q2 2023
The stock has shed over 32% of its market value since the start of 2023 but has gained over 181% since going public in 2014
CRON has a daily average trading volume of 1.67 million shares
The ETFMG Alternative Harvest ETF is the largest institutional shareholder of Cronos Group stock, with an ownership stake of 1.71%
Aurora Cannabis Inc (NASDAQ:ACB)
Aurora Cannabis Inc is a Canadian marijuana company that produces cannabis products for medical and recreational use and is listed on the Nasdaq and the Toronto Stock Exchange
The company operates in 25 countries, with eight licensed production facilities
ACB has a market capitalization of CAD 225 million, with quarterly revenues of CAD 75 million
The stock has halved since the start of the year, which amounts to a total decline of 88% since going public in 2007
ACB has an average daily trading volume of 4 million shares
The ETFMG Alternative Harvest ETF is the largest institutional shareholder of ACB, with an ownership stake of 3.22%
Canopy Growth Corp (TSE:WEED)
Canopy Growth is a Canadian cannabis company and one of the largest cannabis companies in the world. The stock is listed on the Toronto Stock Exchange and has a market capitalization of CAD 380 million
In addition to the Canadian market, Canopy Growth has partnerships in Denmark, Spain, and Germany, where it provides medical cannabis products
The company generates quarterly revenues of CAD 108 million while managing to reduce net losses by nearly 100% Y/Y as of Q2 2023
Canopy Growth has a daily average trading volume of 26.7 million shares
The ETFMG Alternative Harvest ETF is the largest institutional shareholder of Canopy Growth, with an ownership stake of 1.53%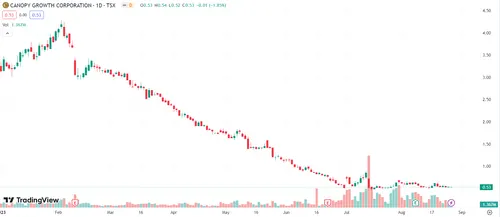 Innovative Industrial Properties Inc (NYSE:IIPR)
Innovative Industrial Properties Inc is a real estate company that services the cannabis industry and manages a portfolio of 108 properties across 19 states of the United States
The company has invested a total of $2.4 billion in a combined area of 8.85 million square feet
The stock is listed on the New York Stock Exchange and has a market capitalization of over $2.17 billion, with quarterly revenues of $76.46 million and net earnings of $41.27 million as of Q2 2023
IIPR has a daily average trading volume of 250,000 shares
BlackRock Fund Advisors is the largest institutional shareholder of IIPR, with an ownership stake of 15.66%, with Vanguard being a close second with 15.51%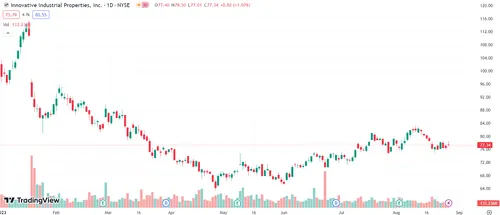 OrganiGram Holdings Inc (TSE:OGI)
OrganiGram is a Canadian licensed producer of indoor-grown cannabis products that markets its products nationwide
The stock has a market capitalization of CAD 155 million, with quarterly revenues falling to CAD 32.8 million as of Q2 2023
OrganiGram also has partnership agreements with companies in Israel and Australia
The stock has an average daily trading volume of 454,000 shares
The ETFMG Alternative Harvest ETF is the largest institutional shareholder of OGi, with an ownership stake of 2.51%
Green Thumb Industries Inc (CNSX:GTII)
Green Thumb Industries is a Canadian listed company that operates primarily on the United States market while trading its shares on the Canadian Securities Exchange
With a market capitalization of over CAD 1.95 billion, GTII is one of the largest cannabis companies on the market, with quarterly revenues of $252 million and a net income of $13.4 million as of Q2 2023
The company operates 67 marijuana dispensaries in the United States through its 'RISE' retail brand
The stock has an average daily trading volume of 244,000 shares
The Patient Opportunity Trust is the largest institutional shareholder of GTII, with an ownership stake of 1.26%