Before you decide whether you want to open an AvaTrade Demo account, it helps to know that the process is straightforward and doesn't require anything from you except a little bit of your time and an internet connection.
Step 1 - Visit The AvaTrade Website
To start the process of opening an AvaTrade demo account, the first step you have to take is to go to their website - avatrade.com. The main page of the AvaTrade website looks like this.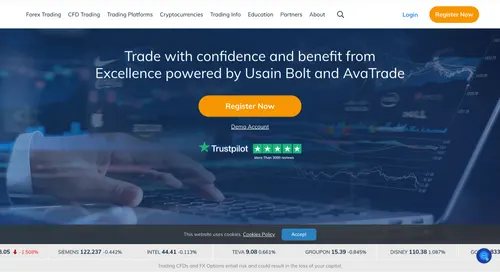 After visiting the website click the "Demo Account" below "Register Now" in the middle of the screen.
Step 2 - Fill In The Registration Form
After pressing the "Demo account" button it will open a separate registration window. To continue, you are only required to fill in two fields: Your email and the password you want to use for the AvaTrade demo account.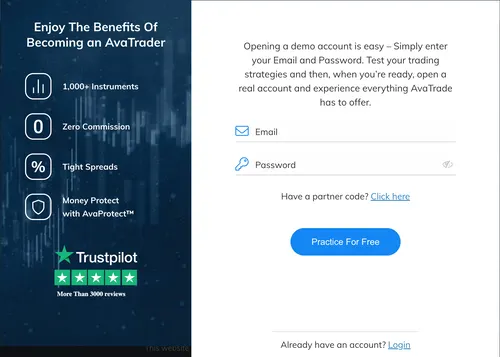 After filling in that information, you are already the owner of the AvaTrade demo account. Then you will be taken to the AvaTrade demo account dashboard where you can find some simple tutorials. You will also receive an email with some login details and passwords so you can use them for future logins.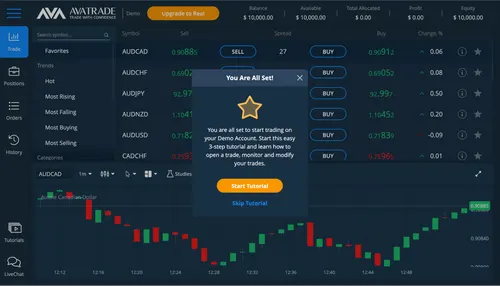 Step 3 - Log In & Download The Trading Platform
After all the steps above are done successfully, you can log in to the website and start making your first trade on WebTrader. You also have the option to download AvaTrade demo account MT4 or AvaTrade demo account MT5 and continue trading there through MetaTrader. These are the two most popular trading platforms so you can easily make the best out of your trading experience.