Candles can be found on a type of chart called a candlestick chart that offers a unique visual representation of the price for a certain period. It is one of the most popular chart types as all the important information is displayed in an easy-to-understand manner, which is very important in Forex and other financial trading markets. Before we proceed to candlestick patterns and confirmation candles, we need to understand what the candle represents and how to read bullish and bearish candles.
Bullish and Bearish Candles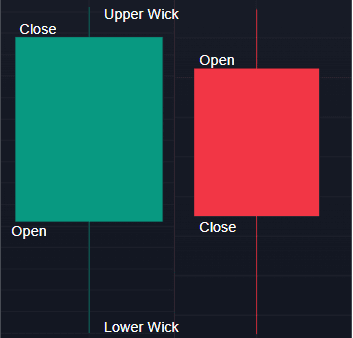 As we can see, candles show everything a trader needs to make sense of price movements. The green candles or bullish candles form when the price for that duration of the candle is moving upwards. It opens below and closes above. The lines below and above each candle are called shadows or wicks. Wicks form when the price falls below the opening price, can not maintain momentum, and then goes above again. Wick shows the lowest and highest prices and is useful for determining how powerful the price impulse was. The longer the wick, the more powerful the price movement was before reversing. For bearish, or red candles, the opening price is above the closing price, indicating that the price was falling and closing below the opening price. By using candles, traders can understand what the lowest, highest, opening, and closing prices of any previous candle were.